THE LAKER MAGAZINE & FLUID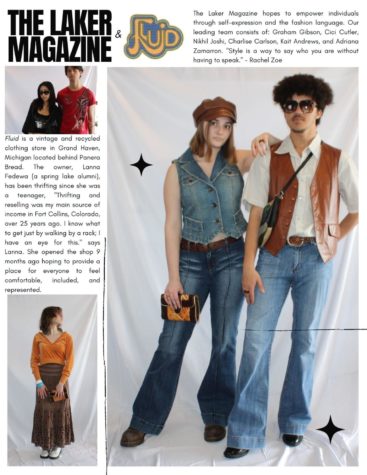 One year ago, Adriana Zamarron, the leader and creator of The Laker Magazine, had a brilliant idea to bring together creative people and create a digital magazine. She discussed the idea with the 2021-2022 Publication class, and they loved it. Since she is taking over The Laker Anchor next year, this would be the perfect way to add her own spin to the newspaper! 
Catching up to this year, The Laker Magazine club has officially been produced (originally known as the Fashion Club), and, even though it had a slow start, has blossomed! They have 6 main leaders, all with different roles: Cici Cutler and Nikhil Joshi who both overlook the club as a whole with Adriana; Graham Gibson (Head Graphic Designer); Charlise Carlson (Head Creative Director); and Kait Andrews (Social Media Manager). The Laker Magazine hopes to empower individuals through self-expression and the fashion language. Our leading team consists of: Graham Gibson, Cici Cutler, Nikhil Joshi, Charlise Carlson, Kait Andrews, and Adriana Zamarron. A quote from Rachel Zoe, a fashion designer, shares one of the club's main messages, "Style is a way to say who you are without having to speak,".
While shopping with her mom in Grand Haven, Adriana ran into this second-hand store, Fluid; she had heard of the shop before and was eager to finally check out their awesome vintage clothing and accessories. She fell in love with the store and immediately introduced herself to the owner, Lanna Fedewa, excited to see who was responsible for this beautiful manifestation of a vintage store. They hit it off, and suddenly Adriana found herself asking to take a photoshoot advertising the store; it would be a perfect opportunity for her team while also benefitting the business! Little did she know, that not only was Lanna more than happy to let them take the shoot, but also Lanna's daughter, Addie Kwiatkowski, is a part of The Laker Magazine themself! 
Fluid is a vintage and recycled clothing store in Grand Haven, Michigan located behind Panera Bread. The owner, Lanna Fedewa (a spring lake alumni), has been thrifting since she was a teenager, "Thrifting and reselling was my main source of income in Fort Collins, Colorado, over 25 years ago. I know what to get just by walking by a rack; I have an eye for this." says Lanna. She opened the shop 9 months ago hoping to provide a place for everyone to feel comfortable, included, and represented.
Adriana was so excited to finally see what was once just an idea finally being put to work! The following week she purchased all the equipment necessary for the photo shoot and began to schedule the entire photo shoot with Lana, her teacher advisors, and Mr. Armey to have it excused as a School Sponsored Event, so they could go during the school day. Since The Laker Magazine club has quite a few members, Adriana was puzzled about who to bring at first and how to coordinate it and make it fair, but she decided that it would be productive and smart to have only the leaders come for the first shoot, so they could get to know the equipment and process to later on lead these photoshoots, all together!
Three days after the process of logistics started, Adriana and her team leaders were on their way to Fluid to take their very first photoshoot. They arrived and immediately got to work setting up equipment and coordinating outfits for the photoshoot. Each leader picked out their own outfit and worked with one another to style them. "We look so good," is something you would've heard walking into the store. 
"The photoshoot went better than I ever could have imagined," said Adriana "we had a great group of people who were all eager to participate, and Lana was very helpful and generous! There were so many ways that could have gone, but needless to say, I am so proud of what prospered on Friday. The Laker Magazine is no longer just a thought or process, but rather it is truly coming to life; I couldn't be more proud of that." she declared. Lanna shares her experience of the photo shoot: "The photo shoot was a great opportunity for me to see what everyone geared towards. I was surprised at the awesome styling that everyone came up with; I think the photos speak for themselves."  
FOLLOW US ON INSTA @THELAKERMAGAZINE