Varsity Girls Swim Takes on States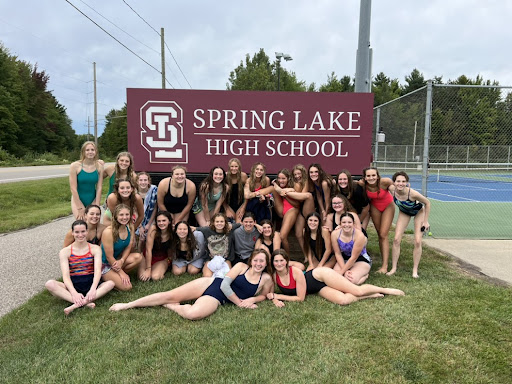 The Girl's varsity swim team had a great season introducing a new coach and new ethics. The swim season ended on November 5th for most of the group, However, a few of the girls made state and their season ended on November 19th. The 2022 state team consisted of Hannah Brown, Sadie VanderHeide, and Alana Mazurek, Bella Boodt, Kyla Meyers, and Teagan Rose, along with Seniors Tori Fochea and Delany Meyers. The girls had three relays qualify and five individual qualifications.
 The Medley relay team of Alana Mazurek, Sadie VanderHeide, Bella Boodt, and Hannah Brown qualified with a time of 1:58.39 and finished with a time of 1:57.83 in prelims placing 17th overall. 
The first individual qualification of the season belonged to Sophmore Hannah Brown in the 50 freestyle. Hannah swam a 25.81 qualifying time and dropped significantly in prelims with a 25.05. Hannah qualified for finals with a 9th place finish, In finals, she dropped more to a 25.02 finishing 10th in the state. The individual qualifications also included Sadie VanderHeide in her 100 breaststroke who qualified with a 1:13.35 and finished prelims with a 1:13.88, Tori Fochea in the 200 freestyle qualified with a 2:04.56 and finished prelims with a time of 2:04.88 she also swam the 100 backstroke qualifying at 1:04.07. When asked how she felt about her last state meet as a high schooler Tori Fouchea says, " I have learned something from each of these girls, and I am so glad that we got to have this experience together. They created a fun and relaxed environment while staying focused on performing well. These girls are mostly underclassmen, I can't wait to see what they will continue to accomplish." Bella Boodt competed in the 100 butterfly with a qualifying time of 1:03.33 and prelims time of 1:02.67. The 200 freestyle relay of Teagan Rose, Kyla Meyers, Tori Fochea, and Hannah Brown qualified with a time of 1:45.07 and finished prelims with a 1:43.62 making a 9th place finish and moving on to finals. The team got a 1:43.88 earning a 12th place in finals. Earning another 12th place in finals was the 400 freestyle relay of Teagan Rose, Kyla Meyers, Tori Fochea and Hannah Brown qualified with a 3:54.26 the relay left prelims with an 11th place finish at 3:49.92. The 400 freestyle relay team ended finals with a 3:49.29. The team ended the State meet with 23rd place.