GHSL Varsity Hockey Team First "Buc Pride" Game Since Covid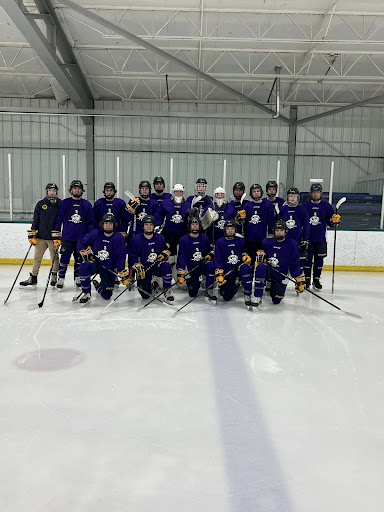 Wednesday, January 18th's hockey game against Reese-Puffer was "more than just a hockey game," as Head Coach Keegen Ferris pointed out. For the first time since pre-covid, the team was supporting "Buc Pride", a fundraiser to help raise awareness and donations for patients battling cancer. Although the Spring Lake Buccaneers fought a hard game against the Reese-Puffer Rockets, their score ended with Reese-Puffer winning 3-1. 
Each player on the GHSL Hockey was playing for a family member or loved one who beat cancer, is battling cancer right now, or in memory of someone they lost to cancer. Spectators were encouraged to donate snacks that could be given to patients as they receive treatment. Spectators were also encouraged to wear purple to show their support. 
Following Wednesday's game, the GHSL varsity hockey team's record will be 4-2. "We have played an extremely difficult non-conference schedule to help us be better prepared for our conference schedule. Highlights of the game include a power play goal by  Royce Butler (#9), a sophomore from Spring Lake high school. The Spring Lake Buccaneers controlled the puck in the third period but failed to capitalize on some strong opportunities.  Coach Ferris commented, "the puck just didn't bounce our way last night."
The GHSL Varsity Hockey Team will look to bounce back in their next home game on February 3rd at 7:30 P.M. at Lakeshore Arena against the Jenison Wildcats.