Wrestling Goes Big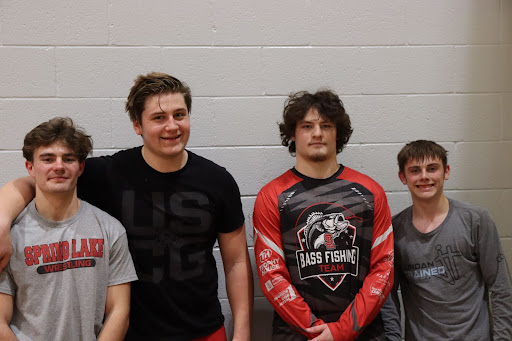 The 2023 Spring Lake Wrestling team has been the biggest numbers-wise, in the 22 years head coach Robinson has been coaching for Spring Lake. Senior Noah VanDruemel has been wrestling for 7 years after joining the team to become better at football. VanDruemel wants to pass on the advice, "Don't get caught in the short term, worry about the long term." VanDruemel's favorite memory from his wrestling career is qualifying for regionals his freshman year. The team had two tournament wins this year, coming in first at the Mona Shores individual tournament and first at the Ron Russo Kalamazoo Central Tournament. 
Senior night highlighted 4 seniors, Noah VanDruemel, Josh Lanka, Peyton Ball, and Justin Johnson. These seniors all have worked very hard to get where they are. Coach Robinson says "Our seniors are doing a great job of laying the groundwork for our younger wrestlers to see what it takes to be successful." The team, while being its largest in 22 years, only has one female. Braelyn Flemming has been wrestling for 2 years, and her favorite memory from the sport is making it to states her freshman year. She encourages people to "just join" the sport. She began wrestling because of her father and brother who are both in the sport as well. 
"We have a young team with a bright future if they continue to grow as individuals" Robinson is proud of his growing team. While there are no more home meets this year I would encourage you to come to one next year and watch as our wrestling team goes big.