Damar Hamlin Collapses on the Field: One of the Scariest Accidents in NFL History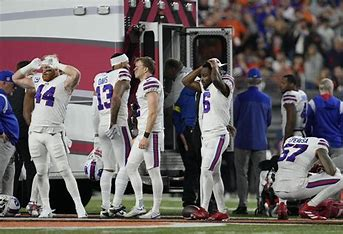 On January 2, 2023 the Buffalo Bills took the field at Paycor Stadium in Cincinnati like every other week. The team was looking for a win against the Cincinnati Bengals on their Monday night football game. Little did the teams or fans know that the game would be getting canceled due to one of the scariest accidents in the history of the NFL. Damar Hamlin, number 3 and a safety for the Buffalo Bills, made a tackle against the Bengals team's wide receiver, Tee Higgins, just minutes after the game had begun. He got straight up after the tackle, and seemed completely fine until he collapsed to the ground. Damar had suffered a cardiac arrest on the field and was immediately given CPR; his heart was restarted in the middle of the field. Hamlin was then carted off and rushed to the hospital for immediate care. The Buffalo Bills and the Bengals then huddled around the field to say a prayer for the fallen player. An incident that made the NFL world stop. During Monday night, it was unclear if the player would make it through the night. There were hundreds of thousands of prayers sent to him from all around. Finally, the news that Damar Hamilin was stable in care was broadcasted by news stations all over the U.S..
The weekend after the accident, the players joined as a unit, supporting Damar–their teammate/competitor. Many players wore t-shirts in support and some stadiums even dyed their number three of the 30 yard line blue in support of Damar. During the following week, Damar was able to visit his teammates at practice as they prepared for their first playoff game. Fans around the world cheered for the Bills–watching as they played the game for Damar.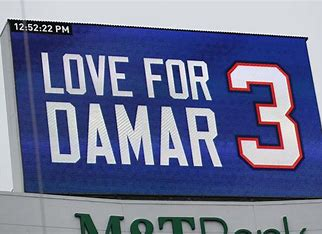 There has been a long time debate on whether faith belongs to be shown on the football field, but the events of the past week seem to have put that debate to rest when they prayed for Damar as he fought for his life. Seeing the whole football community rally together proved, once again, that they are united. This incident was one of the scariest moments in NFL history, but it was also one of the most undivided. Prayers to Damar Hamilin for a fast recovery and return to the field.