Girls Golf Team Wins Academic All State Award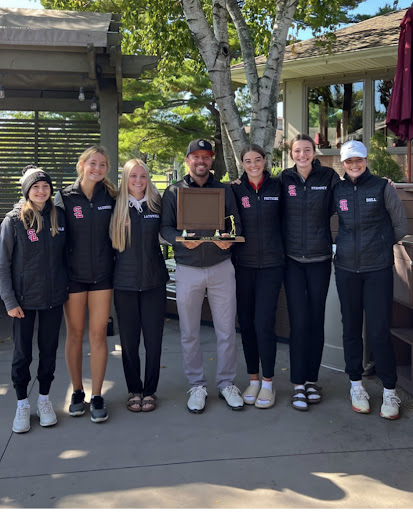 Following a 8th place finish at the MHSAA Girls Varsity Golf state tournament, the girls varsity golf team has been awarded the Team Academic All State award, as well as Individual Academic All State awards for seniors Kayden Fritche and Claire Stempky. This year's team had the highest GPA of every varsity golf team in Division 3. 
In order to qualify for Academic All State, a team must have a 3.5 average GPA (or higher) between all 5 players who compete at the regional golf tournament. As for individual awards, seniors must have maintained a 3.85 (or higher) GPA throughout their high school career. Coach Liniger commented that "It is a great accomplishment to be academic all state as golf takes a lot of time and practice" and he mentioned that these athletes "strive to be excellent at any endeavor they take on which will lead them to many more successes in the future".
Coach Liniger has been head coach of Girls Varsity Golf for the past 8 seasons, and every season Spring Lake has been awarded Academic All State, and he hopes to continue this accomplishment throughout the seasons to come.