Snowcoming Spirit Week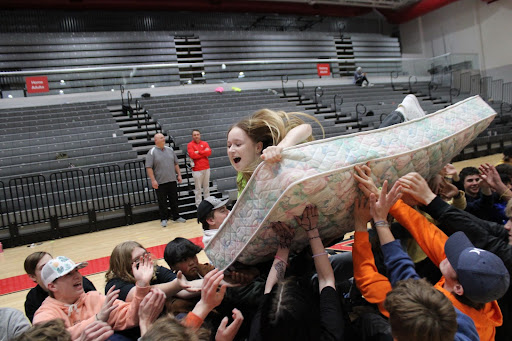 For the first time, Spring Lake High School decided to do a spirit week during the week of the snowco. When we participate in spirit week during homecoming, in the fall,  the energy at school is positive and makes the week of school leading up to the dance and football game more exciting.
The snowco spirit week started off with pajama day, which consisted of a lot of Christmas and plaid pajamas. Tuesday was a new theme- soccer mom vs barbeque dad. For soccer moms, there were a lot of sunglasses, fanny packs, jackets, and tennis shoes. Barbecue dads consisted of lots of hats, some aprons, and sweatshirts. Wednesday and Thursday were both snow days due to a predicted ice storm,  but Wednesday was going to be country club for seniors and freshmen, and country for sophomores and juniors, and on Thursday it was going to be a ski out. On Friday the theme was neon-out and classes were shortened for a pep assembly at the end of the day, which was exciting having two pep assemblies this year versus one. For the drumline,  they turned the lights off and the neon lights on the drums stood out, as they played the fight song. The pep assembly included mattress races ,musical chairs, announcements of varsity athletes for various teams, and other activities to keep spirits high.
Later in the day both the boys and girls varsity basketball teams played Allendale, and the neon theme continued in the student section. Both teams took home the win. On Saturday was the "snowoco" dance in the commons, and the setup was similar to last year with the DJ in the front and lights in the middle. In all, having a snowco week was a successful addition of school spirit in the winter, and should continue throughout previous years.