SL Competitive Cheer Shines at Competitions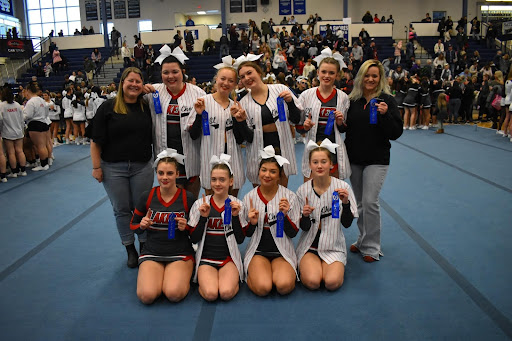 The Spring Lake Varsity and Junior Varsity Cheer teams traveled to Plainwell on December 3, and on December 17, they traveled to Mona Shores. At Plainwell, there were a total of 8 teams competing, 3 were junior varsity and 5 were varsity teams. At Mona Shores, there were a total of 14 teams. 4 were junior varsity and 10 were varsity. At Mona shores, varsity only competed against 1 team, because they competed in divisions.
Round 1 is jumps. At Plainwell, Varsity competed first and got a total score of 207.8 and at Mona Shores they got a total of 212. Junior varsity got a total score of 160.4 at Plainwell, and at Mona shores they got another 160.4. Both teams did a great job and fought for their high scores. 
Round 2 is precision. The ladies had to get all of their motions in time to get a good score. Varsity got a 183.1 at Plainwell, and a 204.96 at Mona Shores. Junior Varsity got a 129 at Plainwell, and a 129.7 at Mona Shores. The girls did their very best, and both teams improved their scores from their first competition.
Round 3 is stunting. At Plainwell, the varsity team had an unfinished round due to it being so early in the season. They got a 243.3 at Plainwell, despite an unfinished round 3. At Mona Shores, they completed their finished round 3 and got a 284.2. JV competed their full round 3 at Plainwell, and got a 171.5. However, they did not compete their round 3 at Mona shores.
Spring Lake Varsity carried out the win at Mona Shores with a total score of 701.16. They competed against Fruitport Varsity and it was a very close competition. At Plainwell, they got second place with a total score of 634.3. Junior varsity got third at Plainwell with a total score of 460.9. They got fourth at Mona Shores with a total score of 290.1. Both teams competed very well and did a great job, even though they might not have had full rounds.