Advantages and Disadvantages of Graduating Early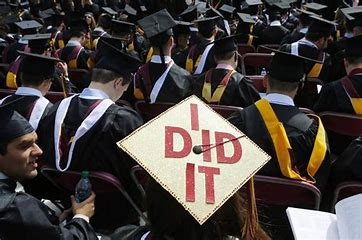 As we begin to finish up the year we prepare to say goodbye to the class of 2023. However, most of us don't know that the option for some seniors to graduate early is presented at the beginning of the school year. This year, 11 seniors took advantage of the amazing opportunity and finished their high school career after their second trimester of their senior year. However, it is not as easy as it may seem to be granted this opportunity.  
Firstly all 18 hours of community service must be  finished by the last day of the second trimester. Secondly all 27.5 credits must be completed. Lastly, each senior wishing to graduate early must write a paper as to why they feel they should be allowed to graduate early and submit it to their guidance counselor, where they are required to get the signatures of both the counselor and the principal stating that they have permission to graduate earlier. Most of the seniors who have graduated early this year are still wrapping up a tech center credit or a dual enrollment credit so these students still have some form of school in their agendas each day. However, the guidelines for graduating early will be changing for those who are interested in it for next year. The hope for future early graduates is that there will be some form of work based learning taking place. So the requirements won't be as easy for future students however, the details are yet to be disclosed. 
Graduating early has its perks and has its disadvantages. As a student who has experienced graduating early I can say first hand that there are definitely positives and negatives to leaving high school early. One of the main positives is being in control of my schedule. I know some of the seniors who graduated early planned on traveling while I have spent my time working. It has been a great opportunity for me to clock in a ton of hours at work and put money away towards college. However some of the negatives are missing out on some of the fun senior experiences at school and spending time with your friends on the daily. It's also harder to focus on the school work you have to get done, such as dual enrollment courses. 
Spring Lake high school offers many great opportunities to help jump start futures such as AP courses, early college, careerline tech center and graduating early. Graduating early is just one of those great possibilities that could work for you.