Norm's Ice Cream Reopens For the Summer!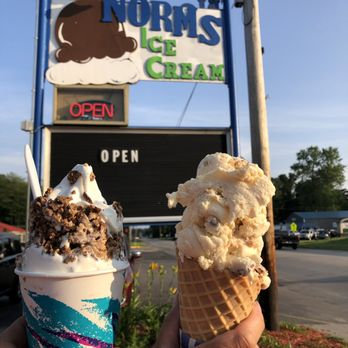 Spring has come upon us, and as the weather gets warmer, our deserts get colder. Ice cream shops are opening back up, including one of the most popular in the Spring Lake area, Norm's. Norm's is a local business described as a family-friendly small-town ice cream shop with two locations nearby in both Grand Haven and Fruitport with outdoor seating. 
If you are new to the area, you may be wondering if there are so many ice cream shops, why Norm's? Norm's carries several flavors of Hudsonville ice cream and provides options for those that are dairy-free or who just don't like ice cream. The menu contains items such as slushies, sorbets, flurries, popsicles, and more! But most importantly, Norm's Ice Cream is known for the dramatic size of its portions. Rarely will a customer ever order a large, which is with reason because, at Norm's, a large is comparable, if not more significant than a pint of ice cream! Even the reviews agree, one stating, "Norm's Ice Cream is one of the best, if not the best, ice cream shop in our area. The portions are absolutely ridiculous! I'm not even kidding."
Norm's is also home to and provides jobs for many students at Spring Lake High School. By supporting a local business, you also support your peers. I asked senior Selah Buhr, a student here at Spring Lake that works at Norm's about her experience and thoughts on the restaurant; Selah replied saying, "I have been working there for four years and will be going back next month. Norm's is a wonderful place if you want good deals on ice cream, you get what you pay for. We like to think we have some of the best customer service and it's a great way to support a local business and working teens!"
Now that they've reopened for the summer, Norm's is one of the many places in the Spring Lake and Grand Haven area you must visit at least once. Norm's has built an excellent reputation for themselves with their high reviews and support for our community. There's no reason not to try it!