Popcorn Fridays Have More to Them Than One Might Think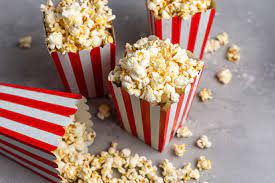 Popcorn Fridays is a well-known event in the student body. It is normally thought of to be a younger grade level event but pre-Covid it also existed in high school. Now the G.O.A.L.S program has been bringing back popcorn Fridays through the past few months. The G.O.A.L.S program stands for Gaining Occupational, Academic, and Life Skills. The program is trying to help students by giving them real-life opportunities for adult living. One of the ways they are doing this is through marketing and selling popcorn on Popcorn Friday.
When students at Spring Lake High School want to order Popcorn they must fill out the online form in Schoology, and go to the G.O.A.L.S classroom (rm. 340) to pay. One of the G.O.A.L.S students will take their name and money, giving the G.O.A.L.S students an important duty to fulfill. The system of online ordering allows them to prepare the popcorn during the day, having a direct count of the popcorn needed, and avoiding some of the typical popcorn Friday chaos.
On Friday, during the 5th hour Peer Rec class, students deliver the popcorn to the respected classrooms of those who ordered it. Students experience peer engagement and commerce exchange. All the students in the 5th hour get their popcorn. Now some may be against getting their popcorn late in the day, but what better way to celebrate your last hour on a Friday than with a bag of popcorn? Hopefully, all students will take advantage of Popcorn Fridays, because it is serving a more important role than just buying a savory snack.