Doug Sharp's Immense Impact on SL LAX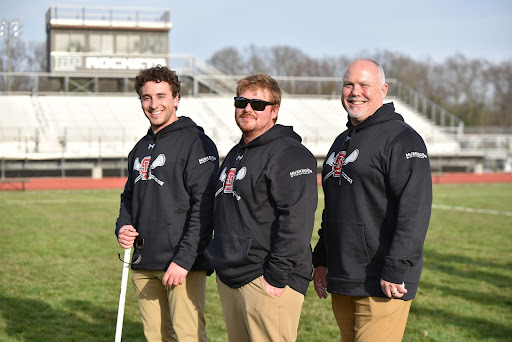 Lacrosse, a sport that has become popular in the past decade, is a booming sport at Spring Lake High School and has been a strong program thanks to Boys Varsity Coach Doug Sharp. Coach Sharp brought Lacrosse to Spring Lake Highschool about 12 years ago and ever since has been a phenomenal success. Doug gives us insight on his past and how lacrosse came to Spring Lake alongside an update to his 2023 team. 
"I moved out to Michigan in 1996 (grew up in New Jersey playing football and lacrosse in HS) then went into the Marine Corps and lived in Maryland for a few years.  Coming to Michigan I quickly became heavily involved in lacrosse in West Michigan.  I was the head coach at Forest Hills Central (co-op with FHN as well).  I also played for the Grand Rapids Shooters (a post college adult team).  I coached at FHC for 5 years but then started having kids and decided to step down after the 2002 season.  I refereed high school and college games for a number of years and then decided to get back into coaching in 2008 and coached one season at Caledonia.  After that season I decided to start the Spring Lake program and in 2009 we had a 5th/6th and 7th/8th grade team.  The next season we moved into the HS with the boys and started the girls program.  This 2023 team is the 14th year for HS boys lacrosse.  This season we captured our 100th HS boys victory and last recently I captured my 150th win as a coach.
This season is off to a great start, we are currently 5-3 with two tough losses the last two games but expect to get back on track and our 1st team goal of winning our conference is still in reach.  We are a young team with only three seniors – Alex Lee, Noah Fox and Luke Meredith but our Juniors, Sophomores and Freshman have all come together with a lot of hard work during the off season to build a great chemistry.  This is a fun group of players and the coaches are really enjoying the process of growing as individuals and as a team.
I've always enjoyed coaching boys lacrosse, it's so much fun to watch freshman come in and then in a short four years mature into young men, both physically and mentally.  As in society, our team is composed of individuals with many different interests and abilities and one of the challenges is to get all of the individuals to buy into a team first mentality and do what's necessary to field the best team.  Sometimes egos can get in the way and as coaches we need to figure out how to piece them all together to establish the best chemistry and on-field product we can.  That is always changing and being tweaked throughout the season."