HUDSONVILLE–"What about a comic book theme?" 
Excited voices buzzed around the table in response to the idea. 
Spring Lake High School's Publication Class found renewed energy in its yearbook designing efforts during a field trip Wednesday, Sept. 27 to the annual Jostens Fall Premiere event. 
Roughly 300 students from various area schools joined the Lakers at the Pinnacle Center in Hudsonville, according to Yearbook Representative Dan Bussis, including Yearbook teams from neighboring Fruitport High School and Mona Shores High School.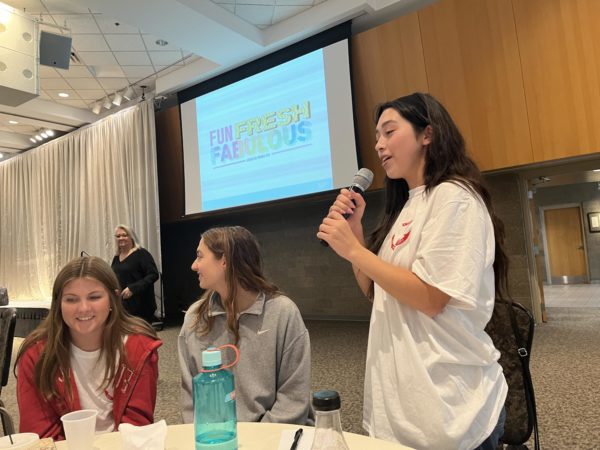 Keynote speaker Marci Pieper shared her insights from many years' experience as a yearbook adviser, discussing leadership, page design, writing and photography. Students participated in team-building exercises and discussed plans for the yearbook "theme"–a visual and literary idea that carries throughout the book to create a unique tone and "vibe."
Having worked through various design ideas this year, the Publication class found inspiration in the award-winning examples shared at the Jostens event, flipping through exemplar books and learning from other schools. The team of 10 students, with adviser Alex Sinn, sketched book cover ideas and collected fonts and colors for the project. 
Senior Adriana Zamarron, back for a third year of Publication, pitched the comic book theme idea to the group. 
"It was really nice to get to brainstorm some new ideas with this team, and see the dynamic of the team this year," she said.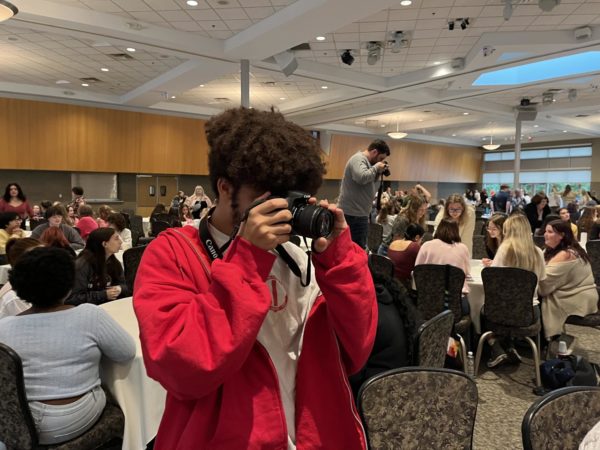 Amelia Ernzer, a junior taking Publication for the second time, has taken on a major role in designing the book. She and other Publication students attended the Michigan Interscholastic Press Association (MIPA) convention over the summer to hone their skills in design and storytelling. 
Wednesday's event showed what the team is capable of, she said. 
"As a team, we communicated new ideas and shared what we could do better or what we should include to improve on yearbooks in the future," Ernzer said. 
Senior Graham Gibson said he enjoyed the opportunity to interview other students at the conference, which forced students out of the comfort zone of classmates. 
The 2023-2024 Yearbook is on sale now. Follow this link to purchase and customize your yearbook, starting at $65.