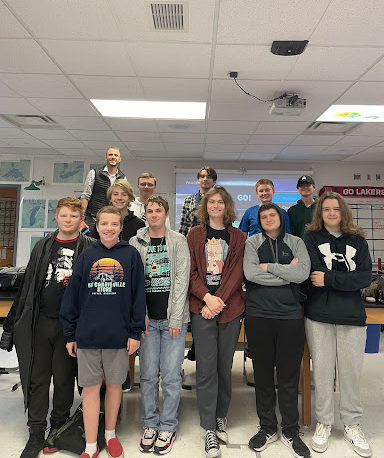 What is the purpose of the E-Sports Club?
The E-Sports club is a SLHS gaming club that hopes to be a place for students to be "represented." Teacher advisor, Adam Reed pointed out that of the 11 students who are active in the club, only two of them are also active in other school activities. The club meets on a weekly basis to make new connections and share their love of video games. 
What events does the E-Sports Club put on?
The E-Sports club will be hosting another "Super Smash Bros Tournament" this Wednesday during lunch. A new addition to the tournament is that it will be a part of the Homecoming events. Each grade will be able to nominate four students to represent them and earn possible Spirit Points that will be added to the total tally at the end of the week. This year, the Switches will have all the normal characters, allowing students to play with "whatever character they are comfortable with."
Where does the club compete?
During the fall and spring sports seasons, the E-Sports club competes in competitions against other E-Sports clubs around the state of Michigan. Through the Michigan High School E-Sports League, or the MSHEL, teams can compete in a variety of video games, including League of Legends, Rocket League, and many more. During the winter season, the E-Sports club fully operates as a club and does not compete. 
How did it start?
In 2022, senior Ryan Whittaker worked together with junior Logan Ross to create a club that is a place for students not typically involved in school sports, to be a part of something they feel passionate about. In the middle of the school year, Whittaker moved to Florida, and Ross took charge of the club. As a "student coach," Ross helps to oversee everything during the competitive season, and during the club season Ross works with Clayton Marshall, a senior, and Elijah Bleulow, a sophomore, to run the club. 
When and where are meetings held?
Meetings are held every Wednesday and Thursday in Adam Reed's Room 330 from 2:35 to 5:00. 
How do I join?
If you are interested in joining the SLHS E-Sports Club, you can email Mr. Reed ([email protected]).
Why did you decide to be an advisor of the E-Sports club?
Adam Reed (Teacher Advisor): 
"I guess there are two reasons. The first one is giving these kids something to be a part of, and also for me, I wasn't a part of anything yet. Having it being my third year, I thought it was about time to do something else outside of school. And I've always kind of had passion for video games. It's just fun and you get to hang out for a couple hours."