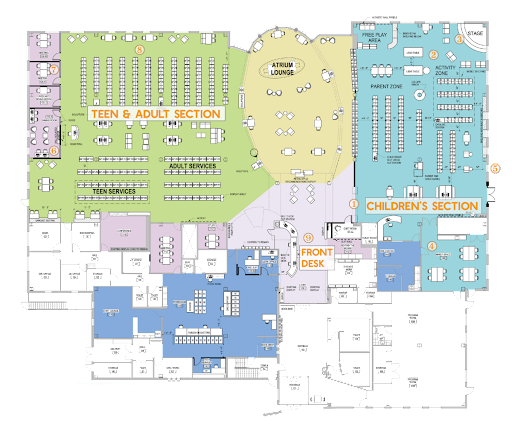 While the Spring Lake District Library undergoes renovations for the Refresh Project, it will carry on typical library functions. 
Library staff have set up a "mini library" in what was normally their community room. Patrons of the library can still check out and hold books, read the newspaper, print and fax or just do their work. 
Library Director Maggie McKeithan said, "Spring Lake takes so much pride in this library building and we want everyone to continue to feel welcome here."  
The Refresh Project has three goals: 
Transform the children's section into a flexible space to inspire imagination and creativity

Create more quiet and private spaces for solo work, group work, and smaller meetings
Reorient the front desk so staff can easily welcome patrons as they come in
The children's section will have a larger play section to accommodate more families, complete with a small stage for storytimes, children's programs and general play. The storytime room will be transformed into a STEM room for projects and experiments. A sailboat structure will also be added to the children's section with benches along each side and porthole windows that go through both sides. 
According to the library website, the teen space will be in a new corner of the library with "restaurant style banquet seating and tables, a lounge area, and a large meeting room that doubles as a gaming room just for teens during after school hours."
A flex room will be added to the left of the teen space with space for a gaming and meeting room. Three small meeting rooms, with space for 1-4 people, will also be added to the left of the teen section. One meeting room will also double as a podcast studio complete with equipment to be checked out. Additionally, more comfortable and varied furniture will be added to the adult section, such as desks, couches, armchairs and cafe tables. 
The front desk will be rearranged to face the east side of the building, rather than the north side of the building, as it is positioned currently. 
The library has reached 93 percent of their fundraising goal, according to SLDL Business Manager Amanda Rantanen. The library is asking for private donations, corporate donations and grants to fund the remaining costs. If someone donates greater than $500, they are eligible for an engraved donor leaf to be added to the "donor tree" in the main lobby. The leaves are now going to be colored green, bronze and platinum to symbolize the "next chapter" of the library.
The library broke ground on Oct. 1 and is estimated to be completed towards the end of Feb. 2024. 
For more information on the project or how to donate, visit https://sllib.org/refresh/.