Peaceful Protests for Patrick Lyoya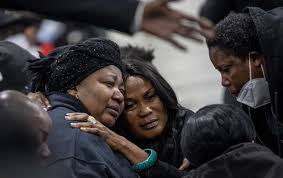 Patrick Lyoya, a black man, was maliciously killed by a white Grand Rapids police officer this past Apr 4, 2022 after having a physical encounter. The Family of Lyoya have called for the officer to be prosecuted; however, the officer is only on paid leave while Michigan State Police conduct an investigation.
Since that day, numerous peaceful protests have been held on the streets of downtown Grand Rapids from Rosa Parks Circle to the GRPD downtown station for the justice of Lyoya. Former Spring Lake Alumni Ian Allard and with Liz Prins have attended one of these protests, and here is the perspective of Allard after attending.
***
"Wednesday, April 17, I was notified that my school (Kendall College of Art and Design) was going to shut down for the release of footage of a shooting in which I had heard around town and seen on the Black Panthers of GR instagram. I knew I had to see it. I left school at 2:30 and waited in my car until 3 to watch. I watched the footage thoroughly and was utterly disgusted by the practice carried out by the Killer Cop (Christoper Paul Schurr)… but honestly I wasn't surprised. Living in the midwest, growing up in Ottawa County and in America I am not blind to the racist mentality of cops and white civilians. I am extremely privileged. I have been pulled over multiple times for speeding, running a red light, and having lights out. Every time I was let off with a warning. Every single time. Patrick Lyoya was not. His life was taken. He was murdered over a minor infraction and shot execution style in the head with no chance to explain or defend himself.
I came home from the release of the footage feeling angry, heavy, and sad knowing the very people I and others pay to protect me and our city were failing us again. Failing the black community again. I wanted to do more. I had been warned by multiple (white) people in my life to get out of Grand Rapids. That it wasn't safe and there were gonna be terrible, angry BLM riots…Fear and silence is why this is still a problem in America. I knew I couldn't sleep without doing something.
My girlfriend Liz and I walked from our house to Breonna Taylor way, the street in which the GRPD is located… ironic. We marched down the road chanting Patrick's name begging for answers and to release the full video which the police blatantly lied about being uncut (the full video from the passenger is online). We were helped and advised by organizers with practical advice on how to protect ourselves from force that police in Grand Rapids have used on some of these people in the past. We gathered in front of the Police station, we needed to be heard by the people at the front of the issue. Despite what I was warned against, The protest was led by kind hearted loving activists in the area who spoke nothing but peaceful messages and immediately discouraged the one single act outside of peace (a water bottle being thrown by a white man at the police station).
All in all I felt inspired and empowered by the bravery and voices of everyone there with us, but also deeply sad and hurt. There were young parents and children who were speaking on their negative experience living here with the police and other authorities. An 11 year old girl was crying saying "I'm scared, I don't want to die" and another young boy asking his father if the police were going to do anything to us?" his dad just said, "I hope not". Multiple times during the peaceful protest GRPD officers came to the windows and just stared at us like animals in the Zoo too afraid to approach us. They even looked people in the eyes and laughed through the glass. We are so far from justice and equality in America. This is far from over. I am still hurt. I am still sad. We need change."
***
As of now the Lyoya family recently had an autopsy taken that will be presented at a press confrence, which will include Lyoya's cause of death, his physical state of his body before being killed, and his life expectancy. Additionally, new videos of the encounter have been released from four different spots: the police Dashcam, police bodycam, a doorbell camera from about two houses away, and the witnesses cell phone camera.