Interact Club Tackles Irish Fest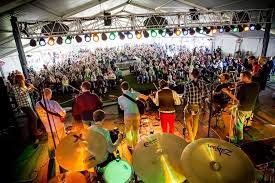 The Michigan Irish Music Festival took place in downtown Muskegon on September 15-18. The purpose of this annual festival is to have live Irish entertainment and to celebrate the Celtic culture. There were six large stages set up for artists to perform. They play many genres of music that range from traditional Irish music to contemporary Celtic Rock. There are also many activities that take place at the festival including eating at The Celtic Kitchen, shopping at the Irish Market and store, participating in a jam session, and attending Catholic Mass. 
The Spring Lake Interact club partnered with other schools' Interact clubs to volunteer at the festival. The purpose of Interact's involvement was to raise money to bring in a guest speaker to Spring Lake High School in the fall. Madi Boerger, a student leader of the Interact club, said that it was "a really easy and super fun way to make some money." 
Students from the club signed up to volunteer in three-hour shifts throughout the four days. The event is said to be a lively, interactive experience where students get to take part in the festival while simultaneously helping out. One of the ways students helped this year was by making sure the bathrooms were kept clean as the day went on. Jaxson Berg was a volunteer who stated that "It wasn't that hard of a job and the atmosphere in the festival was amazing." Additionally, Boerger commented, "Who knew stocking bathrooms with toilet paper could be so fun!" The Irish Festival not only brought people together to commemorate the culture but also offered opportunities for students to have a good time while being involved in their community.