The Toilet Paper War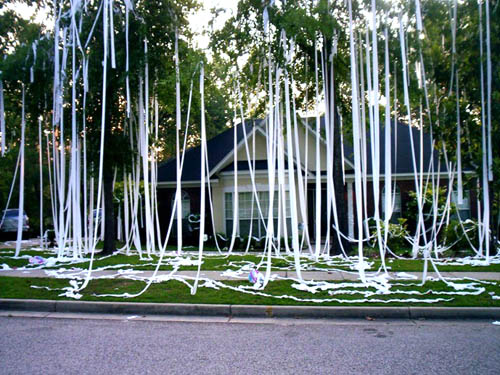 The Junior-Senior TP war is part of the fun and excitement during Homecoming Week. This is a 5-day tradition for the upperclassmen. It starts Sunday night and ends Thursday night. You always hope in the mornings your house was not the target of the night. Toilet paper wars always have conflict. It's either between the parent and the student or the law. I get why parents don't allow their kids to participate in the war. My parents did not want me to because I could get arrested. I could be damaging property and trespassing. They wanted me to be safe and make smart decisions. Some students found themselves sneaking out their windows and meeting up with their friends. Later in the morning, they sneak back as if nothing happened. I have four older siblings and we have never been hit before. My dad said, "If we get hit then it is your responsibility to clean everything up. There better not be a single toilet paper on this property." I understand cleaning up the mess can be a big pain. Trying to get toilet paper from tall trees, getting cheese or shaving cream off your car, trying to wash the paint off the driveway, and maybe worse things to clean. Some may think their parents are taking away their high school experience by telling them, no, but the main reason is that they love you and want the best. If you get arrested for the destruction of property, it could affect the trust your parents have for you. This year I heard stories from students about parents staying up and defending their houses by shooting paintballs or Nerf guns. I think this can be a funny and fun way to play along. Yet, in today's society it can be scary, "Knowing that parents weren't afraid to shoot at students made me nervous about going to other houses but it made the experience so much more fun," said Junior Addison Benedict.
 If you are under the age of 17, you can not be out past the midnight curfew on weekdays. Most students would be getting up around 1 a.m. and stay up until school starts. Having this TP war can be thrilling, yet some students can take it too far. Many students participated, and many houses got vandalized. Some actions have consequences. If you get caught in the act the school will instead steer you to the cops. You can be arrested for trespassing, vandalism, or disorderly conduct. 
Although having the Junior vs Senior toilet paper war sounds fun and thrilling to you. There are consequences for the actions you take during this event.