Is the Nunica Cemetery Haunted?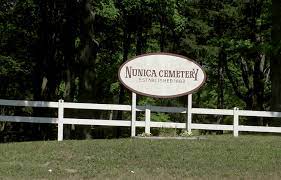 We've all driven past the Nunica Cemetery — and gotten that eerie feeling it emanates. But is it really haunted? Do the ghosts of old Civil War veterans stay around their final resting place? Or is it just a ploy? 
Nunica cemetery is associated with the most haunted places in the United States, and ghost hunters flock every year to see if they can spot ghouls. Established in 1883, many rumors of old war generals are reported every year, along with cold spots, orbs, and "a woman in all white". 
Unfortunately, Nunica's local government is not exactly happy that people seem to be only interested in the cemetery after dark, especially having to deal with vandalism and littering from local teenagers. After careful consideration and in hopes to preserve loved ones' resting places, Nunica cemetery has started closing before dark. 
The new closing times don't stop ghost hunters, though. Coming in the day helps to see the old, eccentric tombstones. One tombstone is made entirely of wood and displays only the name 'Emily'.  Along with that, the cemetery contains the grave of Henry E. Plant. He received the Congressional Medal of Honor, and died in 1925. 
Whether or not it's haunted, Nunica Cemetery brings out some great ghost stories around the Halloween season. Not only that, but the epic history of the war veterans there make it an awesome place to check out in the fall.