Rick Owens Unleashes "EDFU" SS23 Womens' Collection for Paris Fashion Week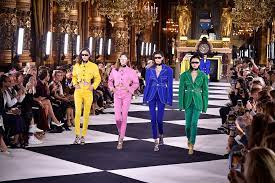 The week of September 26 to October 4 welcomed Paris Fashion Week, the last of the "Big 4" fashion weeks, preceded by London, Milan, and New York. This week, PFW exhibited the Spring-Summer 2023 womenswear collections of various designers. Each year, people from across the globe get to see what some of the most famous fashion maisons have designed for their ready-to-wear collections. The event has welcomed some very innovative designers this year, who have broken through the fashion world with their creative and rebellious ideas.
Rick Owens, a fashion designer from California who has disrupted the modern fashion industry with his distinctive style and artistic philosophy since his first runway show in 2002, put his SS23 women's collection on the runway this week, titled "EDFU'. This new show exhibits Owens' signature silhouettes and design techniques. He cites his recent trips to Egypt as his main inspirations. Long drapes of fabric trail behind models clad in knee-high platform boots. Instead of using metal frames and shapes to exaggerate and form the looks for this show as was done the previous season, Owens creates drastic silhouettes while almost solely relying on the manipulation of fabric. His silhouettes abandon the common conventions and "rules" of fashion, and follow simply what Owens believes will portray his beliefs. The use of broad or tall shoulders to frame the body is, according to his show notes, "a vote for otherness". Rick Owens heavily draws from American counterculture movements, such as grunge and biker culture. 
Some looks featured bombers or jackets with panels and excessively long sleeves which were designed to vaguely resemble the scarab, which the ancient Egyptians saw as a symbol of rebirth, circling back to the influence of Egypt on Owens' state of mind. The designer describes his travels to Egypt as "A way to remind myself to look at the big picture — and to relievedly admire what survives after countless wars."
As the health of our planet continues to deteriorate, the fashion house has joined other major labels in making further efforts to leave a minimal footprint as it produces more clothing. 100% of their cotton jerseys and 90% of their woven cotton is organically sourced.
Rick Owens has again created a show that stands out among the rest, a show that differs in its creator's approach and a show that completely rejects standards of what should and should not be. Hopefully his art will further impact the youth by showing us that we do not need to be afraid to try something different, even if from a glance it may seem wrong to do so. This year at Paris Fashion Week, EDFU has brought something to the table that is needed, something that brings us forward with new ideas.