Powdertuff Win for Seniors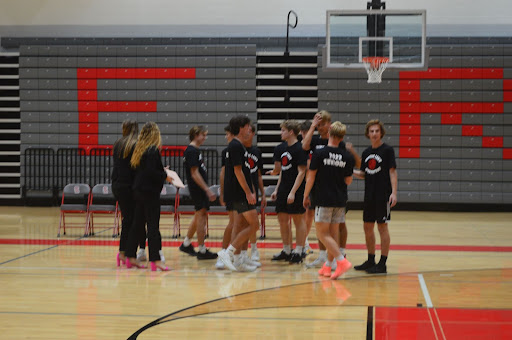 Powder Rough, Powder Tuff!
Wednesday October 12th, was the fun-filled event of Powder Tuff! Gathering many fans and students to cheer their teams to victory. Senior boys were in black and Junior boys in white, competing against each other for a victory in a match of volleyball. With our Junior team: Johnny Abiertas, Aiden Tygrett, Bryce VanDuinen, Karston Kval, Liam Zandstra, Gage Isard, Garrett VanSingle, Jax Bricker, Jack Desjardin, and Zachary Schlepp. The Senior team: Colin Shippy, Jaxson Tober, Max Brown, Jack Mulder, Mason Raha, Conrad Bush, Reece Horton, and Reese Robson. This fun and exciting event brought many of our Laker student fans to come out and cheer for their teams. With shouts and cheers from each side of the court. Our Seniors in black took the easy second-year sweep against the Juniors in white. Overall, the game was successful and all of our team players had a blast going head to head in a game of volleyball. We thank everyone that came to our exciting event! We hope to see another exciting game of volleyball with next year's upperclassmen with even bigger crowds of our Laker fans to cheer them on. Keep on doing great and keep the cheering loud and proud!