Boys Tennis has a Successful Season
Spectacular, Ideal, Successful; this is how Coach Kelly of the JV Boys Tennis team would describe the 2022 season. With the finalization of the Tennis season, the Laker Anchor is here to provide you with a wrap up of the JV season! 
The teams were gifted beautiful weather throughout their season, which Coach Kelly entails makes the season even more enjoyable and progressive! 
The 19 players practiced and competed daily, with the common goal of building as, not only individuals but, a team. The boys finished their season off with 7 wins and 4 losses "the ones we lost we competed all the way to the end" adds Coach Kelly. 
The Junior Varsity Boys Tennis team had an amazing season, making memories and friendships that will outlive their highschool years, and not only that, they have also made a lot of progress that they will utilize in future years. 
Speaking of progress, although the entire team has shown utmost dedication and improvement, Isaac Hansen and Drew Haasksma have shown the most growth.This is Isaac's 2nd year playing tennis. Now only did he see progression in his team, but he has gotten much better at judging plays, and moved up the team rankings all season! Drew completed his 3rd year of tennis, and learned alongside his peers at the net! Even though these players' efforts stood out, that doesn't take away that hard work and perseverance that the entire team displayed. Congratulations to the JV Tennis team for the amazing season! 
On that wrap-up, we can't forget about our beloved Varsity team! 
They have also had a fantastic season finishing 4th in both conference and regionals! Along with the 8-5 in dual matches, they have also had a satisfactory post-season effort.
"Our Lakers fought with determination, enthusiasm, and sportsmanship." says Coach Palladino, and he couldn't be more right! Led by their captains, seniors Eli Tosterud and Max Witherall, they battled and grew as a whole.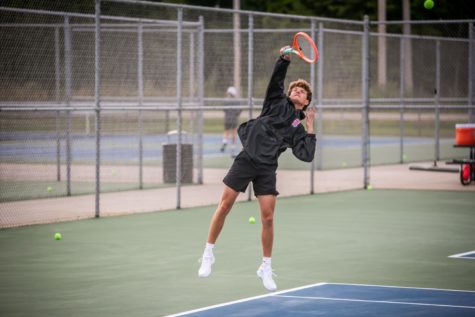 "They represented our school and community in outstanding fashion, and are truly a squad we can be proud of. Great job, Lakers!" expressed Coach Palladino. This team was made to win! 
 "A fantastic match between 2 teams demonstrating great sportsmanship to match their great intensity!" was how Coach Palladino described his favorite match of the season with Grand Rapids Christian; the Varsity boys were tested and, against all odds, came out on top with a 5-3 victory! 
Once again, the entire team delivered a great effort into their abilities as individuals and a team, however; it is important to recognize a few of the team's new members- Hudson Braak, Veer Patel, and Sebastian Ruiz, for their outstanding performance this season! 
Hudson has been playing tennis since he was 7, and that goes to explain his accomplishments this season! He plans to continue to thrive and grow, possibly by attending camps this summer! 
Veer has devoted a long time to this game as well, and says he has developed a lot from playing at the net to improving his ground strokes! 
Sebastian has also improved his ground strokes, and this season has helped him to understand the game better which has overall positively impacted him and his team! 
This team has shown and will continue to show their complete dedication and hard-working attitudes for years to come. Congratulations to this team, and especially their seniors for the captivating season!