Eyes Through the Student Section
We're here to cheer our team to victory… FIGHT. As the students rally up two or three times a week to support two of the biggest sports of the season, many memories are made. Soccer and football are two major sporting events where students unite to cheer on their friends and classmates. 
Friday Oct 15, 2022. The spring lake boys varsity football was first in the state for the biggest upsets across the state.  The boys in the first quarter went 0-18 and fought through the second quarter, later leading with 28-18 over the Crusaders. Senior Alex Lee had an outstanding game where he rushed 199 yards with three touchdowns. Sophomore Reid Grimmer was 7 for 11 passing for 108 yards and scored one touchdown. Another Senior, Gerrit Lyyski rushed for 85 yards as well as nine carries.  Junior Colin Burt caught 4 passes for 71 yards and another Junior, Jackson Lemmen had 2 receptions that were 32 yards and 1 touchdown. Further, Junior Wren Dephouse put in eight tackles to advance the Laker defense. Senior Derrick Paggeot added 6.5 tackles, Senior Joshua Lanka had six tackles and Senior Noah VanDreumel had 4.5 tackles. The boys put on quite a show and showed everyone what it means to be a Laker. The boys will take on the Coopersville Broncos on October 21st. Will they make heads turn again? A couple words from Senior Alex Lee and Jack Duggins on their feelings on the game with Unity "It felt amazing proving all the doubters wrong. Proving that our team is dangerous and can win big games, Alex Lee. Other senior Jack Duggins said "It felt great beating unity, especially since I haven't ever beaten them. It felt as if – I took a sip of ice cold lemonade on a hot summer day – Pleasant.""Moving Forward the boys varsity soccer team had an amazing season. The boys  started their district run and unfortunately came short in the championship. The boys overall were 11-7-1 and fought for every one. Captains Jack Mulder and Conrad Bush fought long and hard as their soccer careers come to end the bitter sweet moment they share about how soccer has impacted them Conrad Bush says  "I'd say just getting to know a lot more kids in r school and building relationships with everyone, It's for sure impacted me in a very good way and made me a better person/player on and off the field." Senior Jack Mulder says" Throughout my life soccer has had a huge impact on who I am as a person as well as friends and relationships that have been created. Growing up it created relationships with friends and also the feeling of being a part of a team impacted me positively. Furthermore, during middle school I didn't have many friends and then freshman year of high school I joined soccer and then throughout my 4 years of high school I grew to be friends with many players on the team. Lastly, the most important impact of soccer is work ethic as well as learning to lead and be a part of something that is bigger than just yourself."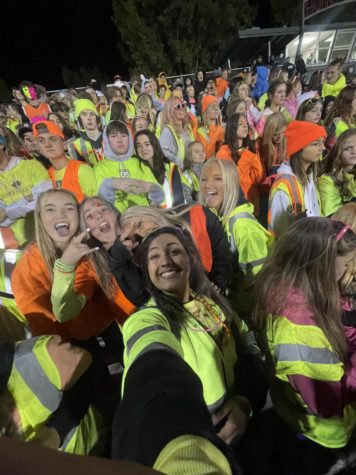 As the fall season comes to an end soon the students themselves have had quite the experience. Being a student athlete is fun and one builds a life long relationship with teammates and coaches but the students who watch from the sidelines have a different outlook. Many students come and support their friends and classmates to show school spirit. School spirit is a great thing its one of the many things that can unify a school. Student sections are a great part of a Highschool game. The endless chants, screaming, voice cracks, taunting, pushing and shoving till that clock hits zero is what makes the student section memorable. Looking through the eyes of students at these events is something that one needs to experience to understand the joy.. As a student athlete the feeling of having a crowd to cheer you one is the one thing that can change the pace of the game, if the students are cheering then the athlete feels more support. School spirit overall is something that can change the culture of the school. Simply dressing up for the theme or promoting ALL sports, not just the popular ones, is something that can have a ripple effect and change the culture of the school. Recently the SALT (Student Athletic Leadership Team) is promoting school inclusiveness. These kids are trying to change the culture of the school, where more kids not only support big sports but will also equally support and cheer on others. 
In conclusion sports are a large part of a high school culture, though a team may win, may lose, the support of students is something that is admirable and unforgettable, and is something that can be praised by others. So the next time if you see a student section give them praise for the work they do or even if you are in the student section give it your all because after all you only get 4 years of it. So show your friends that you're proud, that you care, and that you're there to support them through their journey as they represent your school.