Spring Lake School Board Election Creates Conversations in the Community
Spring Lake's School Board elections are coming up this November 8th. The Spring Lake School Board is composed and governed by seven members. Each member is elected at-large and serves alternating six-year terms, with elections held in even-year Novembers. 
The School Board meets monthly to discuss the goings-on of the district, and all meetings are open to the public.  Meeting dates for the calendar year are determined at the first meeting in January and are typically scheduled for the third Monday of the month. 
 As students, we should be knowledgeable about decisions that will affect us in the future, and what better way to educate ourselves than to read about what all of the candidates hope to accomplish? The School Board decisions do affect us, so to learn about who may be the future leaders of our School Board, and how it may impact us, I asked all six candidates and a handful of administrators a set of questions. 
I started off by interviewing Mr. Ben Armey, the High School principal. I asked him first, "Have you, as principal, seen this election affecting the learning environment of SLHS?" Armey quoted that he hadn't noticed a tremendous impact on the learning environment at SLHS. Armey believes that there is a lot going on in the community that has to do with differing viewpoints, but from this, the operation of the High School has not been impacted. I asked him next, "What is your primary goal for students at the High School?" Armey stated that his number one goal was inclusion. He believes that inclusion can be in athletics, clubs and fine arts. Armey wants to make sure every kid feels connected to the school while they're here. 
Next, I interviewed Mr. Aaron West, the Middle School principal. I asked him, "Have you felt as though this election has impacted your position?" to which West responded that it had not. He did note, however, that he has noticed that there is much more interest concerning the election, like yard signs. West quoted that, "This has been a very unique election, but overall, has not impacted his job." West was also asked if he had seen any impact from the election on students and student life. West responded that he has seen no repercussions on the student side of things. He has several students in his building whose parents are running against each other, and he says while conflict could happen, he is not aware of it at this point. 
Lastly, I interviewed Mr. Dennis Furton, the superintendent of Spring Lake Public Schools. Furton was asked, "How do you see this election impacting your position?" Furton responded that he was familiar with the incumbents and the role that they play in supervising his position. Furton stated that if any of the challengers should win one or more than one seat, that it will be a learning curve. Furton also anticipates that, over time, the impact on his position will be minimal, but it's hard to say. Next, he was asked how he might see student life and culture being impacted by this election. Furton stated that he thought there are different issues that have been wrestled with that will be impacted, including the selection of library materials, potential clubs in the high school, and inclusivity. He stated that if board members were elected that wanted to see change in those areas, then, over time, an impact could occur. Finally, he was asked what his goals were for the students of SLPS, to which he responded that, "Every student should be equipped to be able to think independently, be able to understand complexities, and should have skills that can be applicable to whatever they choose to do next, whether that be work, school, or trades." 
Next, I reached out to all six candidates, incumbents and challengers, to gain a better idea of what it is that they hoped to accomplish in their campaign. All six candidates were asked the same questions. 
Before I introduce the candidates and their questions, I want to encourage anyone that is eighteen years and older (seniors, this means you too!) to get out there and vote on November 8th. Not only will it be an election for the school board, but for several seats in our state government as well. Your voice matters, so use it!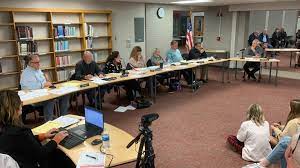 Do you have any comments on your campaign, hope for a certain outcome, and what you hope to accomplish by being elected?
Kathy Breen (Incumbent) – "As a current member of the Spring Lake School Board, I am seeking re-election. We've had a tough couple of years with Covid-19. We've experienced a shake-up in staff at the high school. Recently we've had challenges to the books in our media center, and now there are threats against having certain
student clubs and organizations. Changing the make-up of our SL School Board that has navigated these challenges in a successful and positive way just doesn't make sense to me. It's my deepest hope that I will be re-elected, along with the two other School Board incumbents, Curt Thuene, and Jennifer Nicles. I believe moving into the future with the current School Board – through re-election of myself and other incumbents – makes it much more possible that we can achieve the important goals this Board has set. We are such a unique school district. We are small. We have many successes. We are embraced by the Spring Lake community. And, we as a district, are also a community. As our own community, we need to constantly define what type of school district we will be. We've all been doing the work – asking ourselves the questions: what works, what doesn't work, what changes benefit the greater good, how do we expand our connections, is a change productive or just a change, what's next. We've got momentum, we're being the type of school district we are envisioning. I don't want anything to interfere with the direction we're headed and I will do all I can to convince voters to keep me on the Board so I can help ensure positive growth.
Amber Bolhuis (Challenger) – "I am committed to keeping our students, teachers and community focused on a quality education for all students. I have served several years on the Holmes Parents Club, volunteered as a coach and team manager for youth sports, and I am currently serving on the Spring Lake Schools Foundation board. I hope to be a voice for the parents of Spring Lake and I am ready to fully embrace and educate myself on any and all issues to prioritize what is best for our children. My goal if elected to Spring Lake School Board is to build a positive rapport with our teachers, parents and staff. I think it's important to formulate each decision with an open mind, and leave out all past prejudice and biases. It is imperative that we put our personal agendas aside and work together for the best interest of all of our students. I believe in open communication with our parents and community members about how we can positively advocate for our students success and that we must seek clarity and understanding in all issues before forming an opinion. I want our parents to feel confident that our district is providing the best education and opportunities for their children. I am running for Spring Lake School Board because I know I can provide a voice for our parents' that is not politically or personally motivated. I want our kids to have a well-rounded education, where they are able to achieve their individual potential and learn to interact with the diverse world around them. Our kids deserve to have a positive school experience in a safe environment. I have a personal stake in maintaining the success of our district as I have a current 6th and 8th grader. Staying well connected with my children's schools is incredibly important to me and this school board position is the greatest and most significant way I can help this district grow.
Curt Theune (Incumbent) – Curt's objective for his campaign is to have the privilege of serving on the School Board while representing community decisions for kids. Every kid matters to Curt, and he wants to ensure that no kids are left behind in the decisions that the Board makes. He hopes to accomplish social and emotionally elevated behaviors caused by trauma – much like he sees in his personal job at Oakridge Public Schools. He wants to continue to address and advocate for these children by hiring and maintaining school psychologists and by providing opportunities. Curt argues that kids cannot learn if they do not feel supported in a day-to-day environment, like school. His hope for the outcome of this election is good collaboration and communication. He doesn't believe that any change is needed, and would love to see all of the incumbents be re-elected. Curt believes that he represents a great district with great achievements, and that as a community, we are on the right path to child success. The only change he might suggest is more community involvement and engagement with the individual board members themselves. 
* Mr. Theune's interview was conducted in person, so the response format is slightly different. 
Courtney Holmes (Challenger) – I am a Laker, too! I graduated in 1996. Though things have changed a little I enjoyed all of the homecoming activities (you guys are missing out on the bonfire), junior/senior wars, cheerleading for football games, going to basketball games, Christmas dances, running track and, of course, prom. Anything that had to do with being a Spring Lake Laker, I wanted in! I am a proud Laker!!!  With that being said, I want to be a board member who listens to everyone. You, the students, are the reason I am running.  I want what is best for our students and community. I vow to listen to everyone, including students, teachers, administrators, and parents. Even if we disagree, I will research the question or concern, and respond.
I want to see Spring Lake be even better than we are now, and I have several areas to propose, based on my research and feedback from parents. I want our school to focus on budgeting for a Spanish teacher in kindergarten through sixth grade as an added special. We are behind other area schools in this area. I would also like to recommend adding a guidance counselor at the high school, with a specific focus on helping students get ready for whatever path they choose, whether that be immediately entering the workforce, working in skilled trades, going to college, or joining the military.  As part of this role the counselor would have a meeting with the students of every class and their parents in the spring. For example, if a student is a sophomore, we would have a sophomore/parent meeting in the spring to go over what options they have for their junior year. This would include an explanation of the common app for colleges. Parents and students should know and understand what colleges want to see on that application. Also, the junior year is the time when students can go to the Careerline Tech Center. If this is the path a student wants to take then the counselor, student and parents need to look at what programs would work best for the student. This meeting should also explain dual enrollment and what is needed to get signed up for that. 
 I would also like to look at adding programs that don't cost much money but have great potential for helping students. An example of this would be Link Crew Mentor which is a program where a freshman student would be assigned to a trained junior student mentor. The junior would mentor the freshman until their junior year. Then the student who was mentored becomes a mentor to an incoming freshman. Students become actively involved in helping others. The program includes training, activities, and a lot of fun, too! I decided to run for the school board because of my own children. I started out this journey because I am passionate about issues that affect my children and our family. I always say my daughter and I have "soapbox-itis". When we feel passionately about something we will fight for it no matter what; that is our hill to climb. I have been going to school board meetings for almost three years now, and I found there are areas where Spring Lake is amazing, and places where we are lacking. I want to help address and "close out" the areas that are lacking. The pandemic is behind us, thankfully, but there is a lot more work to put in at Spring Lake and I am excited to get to work!!!
Jennifer Nicles (Incumbent) – A School Board Member's role centers around evaluating, hiring and working with the superintendent and developing Board of Education policy for the district. The Board evaluates Mr. Furton on a yearly basis. The superintendent is accountable to the school board for managing the district according to board policy. The District works with Neola, which is a company that provides policy services to public schools. They help the board to establish and maintain Board policies that are legally compliant and represent the educational philosophy of our school district. When I ran six years ago there were four candidates running for three board positions. This time there are seven candidates running for three positions. In this election the incumbents, Kathy Breen, Curt Theune and I have chosen to campaign together. While we do not agree on every issue, we do agree that ALL students deserve to be treated fairly and equally. With three kids in Spring Lake Public Schools, I am very invested in the success of our district. Serving on the Spring Lake Board of Education has been both challenging and rewarding. It is a volunteer position and there is no financial compensation. There is a significant time commitment involved with a board position and I see it as time well spent. During this campaign, I have been asked a number of different questions by community members. I am open to this and willing to take the time to answer them. It is important that voters know where each candidate stands on different issues.
A couple of questions I have been asked…
What is your support level for our LGBTQ+ community?
We have students that are questioning their gender identity in our high school. The Board recognizes this and should make decisions based on what is best for ALL students.
How do you feel about banning books?
I believe that we need a variety of books in our libraries. In my six years serving on the Board this is the first time a library book has been challenged. The Board has a policy in place titled Public Complaints to address a book challenge. A review committee reviewed the book and made a recommendation. The recommendation was not appealed to the Board so there was no vote. If the book is appealed to the Board, I will listen to all sides and ask questions seeking clarity and understanding before making a decision.
Can a school board member change curriculum? The District has a Curriculum Committee made up of department heads to review or consider the adoption of changes to the curriculum, while considering the State's academic standards. Our Curriculum Director, Scott Ely, leads this committee. The committee would develop a recommendation and the Board would vote on it. There are a lot of positive things going on in Spring Lake Schools right now. Unfortunately, those are being overshadowed by this election. Band competitions, sporting events, homecoming festivities, participation in clubs…. I am so happy these things are occurring. I believe that our students' voices should be heard along with our parents, staff and community members. If you have concerns you should talk with your parents, contact a teacher or your principal. If you feel that isn't enough you can always contact a board member.
**The Laker Anchor reached out to challenger Christopher Martinez, but did not hear back in time for publication.
Again, now that we have seen our potential new board members, and administration's thoughts and campaigns for this election, if you are 18 and older), you are eligible to vote, and decide for yourselves who will be on your ballot this November 8th.