Black Friday and Cyber Monday Records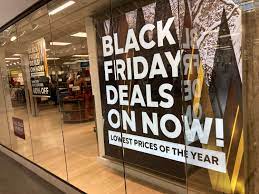 Right after thanksgiving is a great time to start considering shopping for the christmas season, and black friday provides a perfect opportunity with great deals and discounts. According to Wral News, "Online Black Friday sales in the United States topped a record-breaking $9.12 billion this year," due to the high rate of inflation in the United states. Many businesses in the United States are raising their prices on their products due to steady demand, and companies received 220 million more dollars in revenue than last year's Black Friday, which had a total revenue of 8.9 billion. Last year's Black Friday was stuck in a time where the country was still recovering from the wave of Covid-19, and this year we have progressed with more in-store products available.
The most popular items in the black Friday sales included Airpods, Water Bottles, vegetable choppers, and frying pans. Shopping rates also continue to increase online, with the discounts of cyber monday only a few days later. Typically there is a larger variety of items online, having multiple options and alternates of the same product. This year, "Cyber Monday was the largest retail ecommerce sales day in US history, with $11.3 online"( Linked in). According to NBC news, Some of the most popular items in the cyber monday sale included echo dots, lightswitches, and candles. Overall, Black Friday sales and Cyber Monday sales were incredibly successful this year, breaking all-time high records. 
https://www.cnn.com/2022/11/28/business/black-friday-sales-numbers/index.html 
https://www.linkedin.com/news/story/holiday-shopping-breaks-records-6095874/#:~:text=Cyber%20Monday%202022%20was%20the,of%20the%20holiday%20shopping%20season.