Is Host Worth Taking?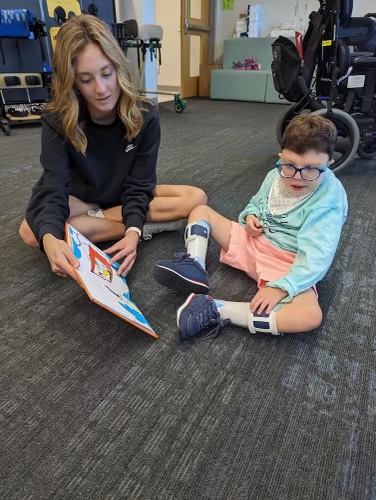 Host – also known as elementary education – is where high school students go to the intermediate, middle, or elementary school to be helpers in a particular teacher's classroom. Host takes the place of a regular class and allows the students to leave the high school at various points throughout the day to get a better perspective on what working in a classroom might look like. Some students take Host because they want to pursue education in the future while others take it simply for the experience. No matter what the circumstance for taking the class is, one question remains unanswered: is Host actually worth taking? These two students took Host in the first trimester of the year and decided to share their thoughts. 
Ava Laug is a senior this year and chose to take Host for the first time. She was placed in Mr. Rotman's room at Holmes Elementary school. Mr. Rotman was in charge of SXI (severe multiply impaired) education. His classroom specialized in working with students from kindergarten to fourth grade who had disabilities. Ava's common jobs included taking the kindergarteners from Mr. Rotman's room to mainstream classes like art and music, helping the students to improve their mobility by using their walkers, and reading them books. She rated her experience an eight and a half out of ten: "At first, it was an adjustment. I was never in that environment before, so it was a lot of learning. It was a good experience overall. It taught me a lot." Ava went on to say, "It was like a family in the classroom." Her favorite moments were when she would take the kids to music class – a place where they would frequently laugh and giggle. She loved watching the other students try to make them laugh even more. Her least favorite moments were the few days when all of the children in Mr. Rotman's room would cry for the majority of the class. She felt that it became a chaotic atmosphere and that it was difficult to diffuse the situation. Ava stated that one of the biggest takeaways from her Host class was "getting to see the side of education that teachers and employers see that the students don't." She says that, if given the opportunity to take Host again, she would absolutely do it. 
Caroline Clark, also a senior this year, had a unique experience with host. She worked in the intermediate school office with Mrs. Fogel rather than in a classroom. She occasionally played with 5th-grade children during recess, but otherwise, she took care of paperwork and various tasks for the teachers and secretaries. When she worked in the office, she got to go through the student's files and put their photos in them. She restocked paper and learned how to use Cricut (a machine that allows a person to design and personalize materials). Caroline thought that the device was "so cool" and was very enthusiastic when speaking about it. When she went out with the children during recess, she often played with a girl named Victorie who adored being pushed on the swings. Caroline mentioned how much she cherished their moments together. 
Overall, Caroline rated her experience a seven out of ten. She said, "It was friendly between all the teachers and me, but sometimes I was confused about what I was there for. It seemed like they didn't actually need me, but I enjoyed what I did." Despite the occasional lull in her work, she appreciated the change in the environment from the high school. She believes that fourth hour is the best time to have Host because it made her day go by quickly. One of the things she liked the most was that the teachers were constantly offering her food such as tacos, pizza, and cookies. When asked to recall her favorite moment, Caroline told the story of how all the teachers surrounded and supported her when she was in the midst of buying Taylor Swift concert tickets. As she continued to reflect, she declared, "I miss Host. I made a lot of memories." 
Both girls had varying encounters with Host, but the all-around consensus was that they loved the time they spent there and it made their days feel more fulfilling. They greatly value the experience Host offered them and believe it is one opportunity that is definitely worth taking.