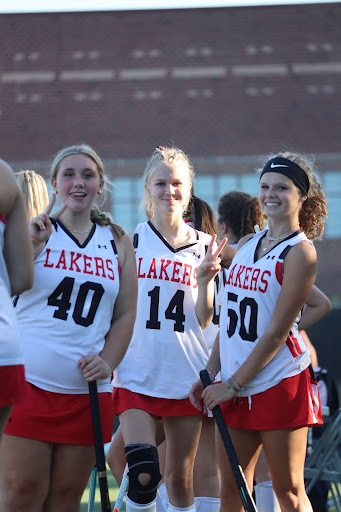 Spring Lake has introduced a new club sport: Field Hockey. 
This girls only sport has already gained community favor  and is off to a strong season with three wins, one tie, and one loss. The coaches show incredible dedication to the growing community of field hockey, using all of their personal contacts to outsource information and new skill drills to improve their girls.
Before Thursday's loss to Rockford, the two opposing teams practiced together to share skills and knowledge of the sport that is new to most players. 
The majority of the Lakers Field Hockey team plays lacrosse as well. This has caused a learning curve due to the transition from a fast paced sport to the slower, patience-based game of field hockey. 
Throughout the learning process the coaches are doing all they can, taking tips from former and current players, assisting them into bettering their coaching skills, but also their teams skills. The coaches have an incredible passion for the sport as do the players.
Spring Lake's only goalie, Noelle Wiedenhoeft, said she decided to join the team because she knew she'd be good at it. While she struggles with the stress of being the team's only goalie, she highly recommends the sport to anyone interested. 
The team has "become a family through learning together," Wiedenhoeft said. 
Her season highlights include her saves, and the bonds she has made with the underclassmen. 
You can support the team at their next game against Forest Hills Center on Monday night at 6 at the lacrosse field at the high school. They also visit East Grand Rapids on Wednesday.
Spring Lake High School students get free admission to all sporting events this year.