Shining a Spotlight on JT Hogan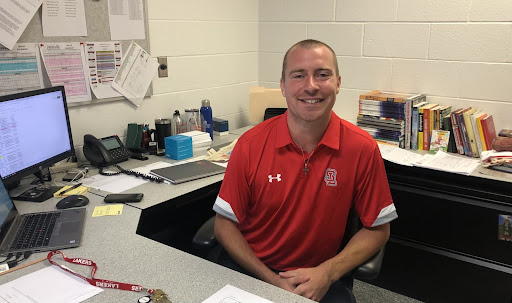 As the end of the year comes creeping up, and Spring sports reach an end, it's time to shine a spotlight on who made it all possible, the Spring Lake Schools Athletic Director, James Hogan, more commonly known as JT. 
Growing up participating in any sports he could JT knew that he wanted to impact future generations the way his coaches had impacted him. "I realized that the athletic director gets to impact even more kids". After graduating from Aquinas College, he started his internship at Kingsley High School near Traverse City and then worked there for two years. Following that, he worked at Allendale for seven years and in 2021, applied to the Spring Lake School's open Athletic Director position.
Closing out his 2nd year as Spring Lake's athletic director, his goal for next year is to "hit successful benchmarks for every kid and every program", which, as he mentioned, is different for different sports and athletes. Spring Lake has a 62% rate of students involved in sports, and 93% of Lakers participate in at least one extracurricular, whether that is sports, band, choir, clubs, etc. 
His advice for any student hoping to pursue a career in sports is "find out what you like". With sports becoming a multi-billion dollar industry in the US, there is a wide range of jobs available, ranging from marketing to social media to ticket sales, there are more "fine-tuned opportunities". 
JT would also like to thank the 2023 senior class for "their leadership in the building and everything they've done for our athletic department".