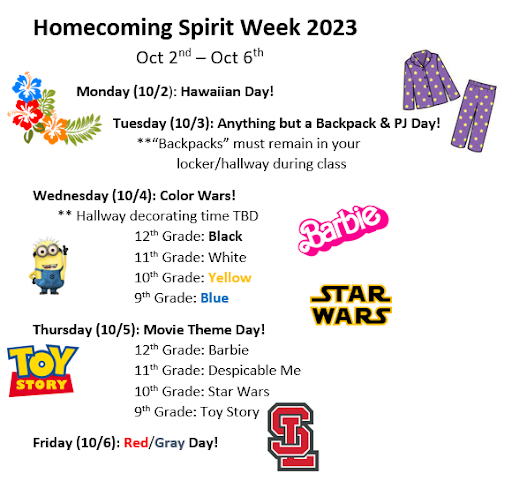 Homecoming week is one of the most fun times to be a highschool student. Dressing in fun outfits and repping the school spirit. 
Starting the week off strong with "Hawaiian-Out," grab those lai's and grass skirts and get ready for a luau! That's not the only thing: Come cheer on the junior and senior girls and play some flag football in this year's Powder Puff Game atGrabinski Field at 6 p.m.  
Tuesday comes in comfy with Pajama Day, but that's not it, the no backpack rule becomes anything but. Grab anything and it's your bag for the day. For "Anything but a Back-pack Day," keep your "backpacks" in your locker during class time. Get excited to bring the spirit at the Belly Flop contest on Tuesday as well. 
Be ready to see the hallways all decked out because Wednesday is "Color Wars!" Be sure to dress in your grade's color: freshmen are blue, sophomores are yellow, juniors are white, and seniors wear black. Hallway decorating is a good time all the time. Decorate your hallway to match your class color. 
Thursday brings Movie Wars. Seniors, make sure to go all-out Barbie. Juniors get to turn into classic characters from Despicable Me, sophomores become Jedis and Stormtroopers with the Star Wars theme, and freshman better hope Andy does not come home early with their Toy Story outfits. 
Friday is the one and only "Red and Gray Day." Come to school decked out in red, white and gray ready for the Pep Assembly at the end of the day. Stay tuned for lunch schedule changes, as class periods will be on a 60 minute schedule to account for the assembly.
During the pep assembly, many fun activities are going to be happening, so make sure to pay attention and be hype! Throughout the week grades will be competing to see who's the best at school spirit, what grade do you think will win?