New Books in the Library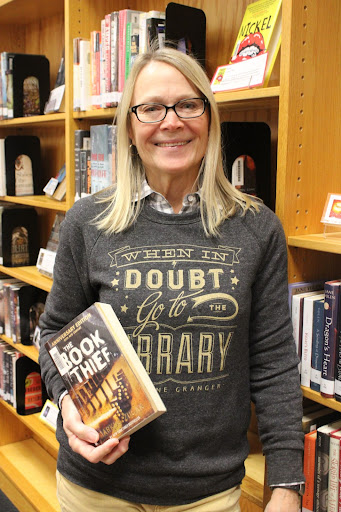 We are lucky to have a huge library media center with a lot of books. The recent events around some books really brought attention to them. So, today we're going to talk about how books end up in our libraries and what's the process to choose them.
But first, why does the library media center provide so many books? They of course do this to enable students to develop the necessary critical thinking skills to be discriminant users of information and to become productive members of society. It's also important to develop their imagination, that's why there is so much diversity in the books. From history, romance and relationships, mental health, and alternative lifestyles, to sports, the supernatural, and fantasy. Everyone can find something they like. They are really trying to find a balance between all the books so that everyone can like them. 
No matter what the opinions are of the books, these library media centers provide books with accurate, authentic, factual content.
Presenting diverse sides of what may often be considered controversial issues gives students an opportunity to develop analytical skills resulting in informed decisions. And this is a priority to present every point of view to support their mission of providing access to information for all users in the process of developing lifelong learners.
The process is way more complicated than you think it's not only just verifying the book and taking it. In fact, there are 2 big parts with a lot of small parts in them.
First, we're going to start the process of collection development. They listen to students and teachers for some propositions because your opinion really matters to them — they do this for you.  They're also going to check the curriculum because it's of course impossible to read all the books! The Curriculum Advisory Committee is also really important to use as it is made up of teachers from specific curriculum areas who have knowledge of these books. After we're gonna do an inventory of the materials already here (aged, damaged, lost materials,..etc) do know what we have to buy, don't, and from that, we need to make a budget for everything which can be pretty long to do and can change a lot every time.
After all of this, we finally start the last step and also start the research. They of course use trusted sources and verify many times to be sure. For example, they use ALSC (The Association for Library Service to Children is a division of the American Library Association, and it is the world's largest organization dedicated to library service to children. Its members are concerned with creating a better future for children through libraries.) to find ideas, but also base their choice on the different awards that authors receive (Batchelder,  pura belpre, caldeccott, geisel, etc..).
They are also a lot of organizations that support collection development for libraries 
-NCTE(The National Council of Teachers of English is a United States professional organization dedicated to "improving the teaching and learning of English and the language arts at all levels of education)
-Teaching tolerance which is a program of the Southern Poverty Law Center, based in Montgomery, Alabama. Its core goals are to "foster inclusiveness, reduce bias, and promote educational equity" for K-12 students in the United States.
-MAME ​which is an organization dedicated to helping, inspiring, and collaborating with school librarians across the state of Michigan
They use A LOT of different sources to be sure to give the best book possible
Like the ones above, magazines, but also their personal review of course reading the book is the best way to know if it's a good one or not.
Now here are the top 5 of the most popular books recently. You can find them all at the library.
-The Hunger Games – Suzanne Collins
-The Maze Runner – James Dashner
-The Fault In Our Stars – John Green
-The Lord of the Green the Fellowship of the Ring – J.R.R Tolkien
-The Red Pyramid – Rick Riordan