Puffs or Seven Increasingly Eventful Years at a Certain School of Magic and Magic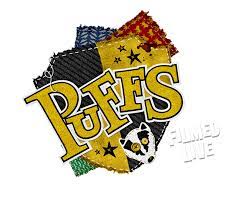 November 29, 2021
On November 4th, 5th, and 6th, at 7pm, Spring Lake High School Drama Club performed 'Puffs! Or Seven Increasingly Eventful Years at a Certain School of Magic and Magic,' their first real show, post-COVID. No masks and a real, full audience: all of the things that the drama club hadn't experienced since 2019. It was refreshing to bring back live theatre after so long and not only did the audience enjoy it, but the drama club did, as well. According to most in the Drama Club, most have agreed that this has been one of their favorite shows that we have done here at Spring Lake High School.
The cast blew everyone away with their performances, especially the main three characters and our very lovely Narrator. The main three were Senior Truce Glore as Wayne Hopkins, Senior Isabella Zieganthaler as Megan Jones, and Junior Maxim Chalupa as Oliver Rivers. The role of the Narrator was played by Junior Maddie Handrich. The chemistry, the casting… it was a perfect choice. Each person involved, including the tech people and Director Shay Chalupa who worked behind the scenes, gave their everything to fully entertain the audience and do their job of taking everyone away to the magical land of England to our 'Certain School of Magic'. With over 200 props, almost 300 lighting cues, and many, many sound cues, Spring Lake Drama Club did it again putting together a good show. Now, I might be biased because I was in the show, but if you missed out on this show, you missed out on a good one. This year, there were less kids out sick, but there were a few times where kids had to come to rehearsal through zoom due to being sick and missing school, but luckily, nobody got COVID-19 and nobody was contact-traced. No understudies had to take over and everyone got to showcase their talents through their silly characters to each excited audience member.
After three successful shows, the drama club celebrated with a cast party in the high school commons. The Cast Captains, Ellie Theune and Maddie Handrich, gave out cast awards, and our Directors announced what the musical would be. Sadly, I cannot disclose that information to the public yet, as the rights to the musical haven't been obtained yet. Once we do get the rights for it, there will be an announcement, so stay tuned. The Drama Club can not wait to give you another performance.