Girl Up Club Hosts The Scary Truth Trail
Spring Lake High School's Girl Up Club hosted the annual Scary Truth Trail on October 26th, 2022. The primary goal of this event was to educate our peers and community on the scary truths that women and girls around the world face every day. One of the many shocking statistics that was displayed was that, "Women are 47% more likely to suffer severe injuries in car crashes because the safety features are designed for men." All monetary donations were used to support the United Nations Girl Up Foundation, and all feminine hygiene product donations supported our local women's shelter.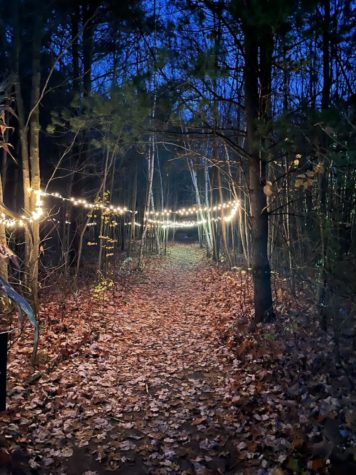 The event was hosted at the SLHS track barn on the cross country trail. Beautiful lights and spooky decorations added to the theme of the haunting message that the members and leaders of Girl Up aimed to send. Senior, and president of the club, Sarah Sevener, stated that, "It's important that people in our community realize that gender inequity is very much still prevalent. I think that displaying this information in a way that is accessible and interesting for all was our goal of the evening."
The members of Girl Up made home-made chocolate-covered pretzel sticks and offered hot cider and candy to all who attended. Members also gathered to carve pumpkins to illuminate the trail the Monday before the event, and come Wednesday night, the trail was as spooky as could be. With help from all of our amazing volunteers and members, it was safe to say that the event was a success, and that everyone who walked the trail learned something they might not have known before. Girl Up's next meeting will be Thursday, November 3rd to discuss how the trail went, and to plan our next fundraising event. Thank you to everyone who showed up to support Girl Up!