Thrifting 101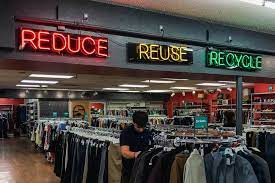 Thrifting 101
By, Amelia Ernzer
Today thrifting is an affordable and fun way to go shopping with friends. Although you may have some good finds every so often, it's hard to know exactly where to look or even what's best to look for when shopping. Everyone could use some pointers now and then continue reading for helpful tips and tricks to use while thrifting.
Entering the store
First off, get in the mood! Listen to your favorite music or podcast, and prepare to shop for a while. As a consumer, the best thing you can do is go into your local thrift store with an open mind. When shopping, you need to look through as much as possible. By going in with something specific, the chances of you passing up on a unique item are much higher.
Be Open-minded
One thing to keep in mind is the best time to go shopping. Most thrift stores restock for the day between the morning and night, meaning they're putting out all new inventory. As a consumer, this opens you up to all the finds most people would miss out on. 
Where to look
If you want the newest and best stuff, rather than starting at the beginning of the racks, it's better to start at the end. Typically the workers at these stores put the most recent items toward the end of the shelves to make your shopping experience easier. 
Make sure to always look at the racks outside of the dressing room. Items on these racks have already been picked, meaning the finding has already been done for you. You can always find good pieces in these areas.
Denim Products
Another tip is to look at the hardware on denim jeans or shorts. When looking through the denim aisle, keep an eye out for any brass hardware such as clasps, zippers, etc. If you see this metal, it usually means the product is newer. Nowadays, most brands, such as Zara and Levis, use brass hardware.
Cropped or Small Tops
One trick is to look at tags and hemlines to find small tops or brands you know suit you best. For example, in the shirt section, rather than looking from top to bottom, look from bottom to top to see which hemlines are shorter than others. Always be sure to check the little girl's section. Typically crop tops are there as well. 
Upcycling
Be open to upcycling. Keep in mind you're not shopping at a big box store — not everything will be new. However, if you find a product you love that has holes or stains on it think about what you can do to make it better. Dying, cutting, or even sewing a patch on a piece can all make it better or unique. 
Thrifting should be fun and relaxing every day won't have great finds. However, that doesn't mean you should give up. Hopefully, these tips and tricks help better your experience and help you open up to what you may find on these racks.